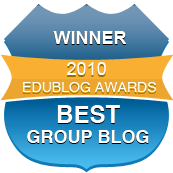 The winners of the Best Group Edublog 2010….
First Runner Up: The Reading Roundup
Second Runner Up: The Teaching Palette
Congratulations to all winners and you can grab your winner's badge from here!
Scroll to the bottom of the page to see the results tally!
Summary of nomination and voting info:
70 nominations received for Best Group Edublog 2010
24 blogs shortlisted for Best Group Edublog 2010
Total number of votes was 1,173
Most nominated blogs for this category were:
Blogs nominated in alphabetical order!
And the results are!