We've had quite a few requests for a link to the recording to the Edublog Awards Ceremony so here you are:
Thanks to Steve Hargadon for organising the recording of the Ceremony!
And how cool are these Award moments?
Arjana Blazic's Greetings From The World won Best Educational Wiki 2009 with a staggering 711 votes. Arjana, from Croatia, stayed up until 3.30 AM to listen to the results.
It's so exciting to hear her win made the papers in Croatia with these three articles:
Meanwhile Billings Middle School Faculty had a facility party, at 9 PM, while watching the Awards.
It was exciting for all of us to hear their cheering when Billings Middle School Tech Class Blog won Best class Edublog 2009.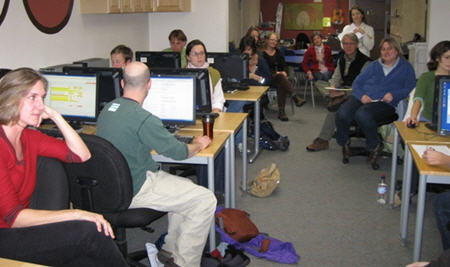 And finally how dedicated were the Beeghley Family?
Sarah, who won Best student edublog 2009 for Civil War Sallie, watched the Awards while Sarah was also preforming at her Christmas Concert!
Would love to add more cool moments to this post?  If you have any please let us know by leaving a comment!