Voting is now open in the 2014 Edublog Awards!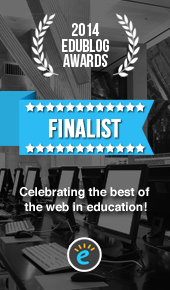 Here are all the categories:
Voting will close at 11:59pm EST on Monday, December 15th. (Check in your timezone here.)
About the Shortlisted Finalists
Use the links above or the top menu to see all of the finalists – those moved through to the voting round.
Each year there are more and more nominations, and of increasing excellent quality, reflecting the ever growing edublogosphere — nice work guys!
Unfortunately we can't list every single nomination in each category — that's too overwhelming for everyone.
Instead, our intrepid team of judges combed through hundreds of nominated sites to whittle them down to a manageable number of shortlisted finalists for each category.
Apologies in advance if your site or nominated sites don't make it – this was such a tough decision!
There are many factors that determine whether a nomination is shortlisted, and some categories were considerably more competitive than others due to the incredible number of nominations.
For example, sites weren't shortlisted:
If they obviously didn't fit the category (such as websites or wikis being nominated in blog categories)
If they were self nominations
If they didn't follow the nomination submission process
Other factors used for shortlisting included:
For blogs and influential posts – indicators of reader engagement (such as # of comments, bookmarking, pingbacks and google page rank)
For Tweeters – conversation indicators (such as number of following/followers, lists been added to, types of conversations, whether account was public or private)
Due to the thousands of nominations received, there is most likely a typo or mistake or two. Let us know in the comments so we can fix it up!
Shortlisted Finalist Badges!
Yes! We have badges for everyone who is a shortlisted finalist 

If you are a shortlisted finalist, grab your badge from the top of your category page and it place in your sidebar linking back to the poll, you will be listed on those pages forevermore so wear 'em with pride.
Voting With List.ly!
This is the second year in a row where we have leveraged public voting using List.ly.
This means you can:
see the real-time vote counts

vote for more than one of your favorites!
embed the actual list and let people vote right on your blog!
the Tweeter and Lifetime Achievement categories have a built in twitter list you can follow
You must login with or create a Listly account to vote – this is the only way we can make it fair so you can only vote once per finalist per category.
Let us know in the comments below if you are having any problems with voting or have any questions.
How to Vote
You vote as follows:
1.  Go to the Awards Category you want to vote on using the links above.
2.  Click on the  Thumbs Up icon on the blog, website or person you want to vote for.
That's it! If you aren't already logged in to list.ly, you can do so using a facebook, twitter, LinkedIn, or Google+ account.
Anything Else?
I think that's it for now.
Voting will close at 11:59pm EST on Monday, December 15th. (Check in your timezone here.)
Now go vote and discover great new blogs, resources, and people to follow!