The Edublog Awards is a community based incentive started in 2004 in response to community concerns relating to how schools, districts and educational institutions were blocking access of learner and teacher blog sites for educational purposes.
The purpose of the Edublog awards is promote and demonstrate the educational values of these social media.
The best aspects include that it creates a fabulous resource for educators to use for ideas on how social media is used in different contexts, with a range of different learners.
It introduces us all to new sites that we might not have found if not for the awards process.
The Edublog Awards consists of three stages:
Nomination
Voting
Winners Announced
The nomination process
Nominations normally starts in November.
Anyone can nominate their favorite blogs, twitterers, community sites, videos, podcasts and more in a wide range of categories.
To nominatue you need to:
Post your nominations on your blog, or a public website.  link to them and link to this site
Use the form at the bottom of the Nominations post to submit your nominations.
The Voting Process
Once nominations close we comb through the lists to confirm all nominations fit their category and finalize the shortlisting process.
Blogs and sites won't be shortlisted:
If they obviously didn't fit the category (such as Nings or wikis being nominated in blog categories)
If they were self nominations
If they didn't follow the nomination submission process
Voting commences in December and any one can vote for their favorite blogs (or sites) by visiting the voting page for each category.
We're shaking things up a bit by having public voting using List.ly.
This now means you can:
see the real-time vote counts
vote for more than one of your favorites!
embed the actual list and let people vote right on your blog!
the Tweeter and Lifetime Achievement categories have a built in twitter list you can follow
You must login with or create a Listly account to vote – this is the only way we can make it fair so you can only vote once per finalist per category.
How to Vote
You vote as follows:
1.  Go to Listly
2.  Create a Listly account or signin to your Listly account.


3.  Go to the Awards Category you want to vote on.

4.  Click on Vote Up arrow on the blog, website or person you want to vote for.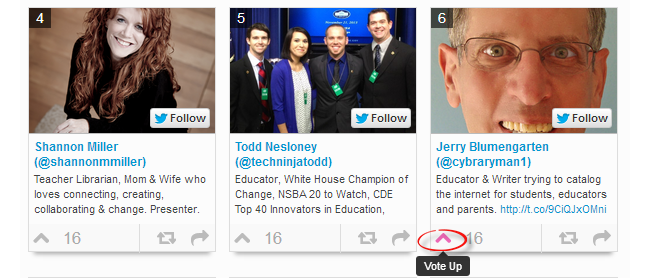 Winners Announcement 
Since you are able to see the leaders constantly with Listly we will be publishing a post on the Winners when voting closes on Dec 18.  
This year's nomination categories are:
Best individual blog
Best individual tweeter
Best group blog
Best new blog
Best class blog
Best student blog
Best ed tech / resource sharing blog
Most influential blog post
Best twitter hashtag
Best teacher blog
Best librarian / library blog
Best School Administrator blog
Best free web tool
Best educational use of audio / video / visual
Best educational wiki
Best educational podcast
Best open PD / unconference / webinar series
Best educational use of a social network
Lifetime achievement